Halloween Is Coming: 4 Home-Made Treats For Your Party
Halloween is right around the corner, and it means Halloween-themed cannabis treats all around. There are four home-made treats' recipes that will make your adult-only party unforgettable. The snacks are uplifting and utterly delicious.
Disclaimer: These treats are not intended for children. Use lockable edibles storage box to prevent kids from consuming cannabis-infused products.
Chilled Apple Cider with CBD Simple Syrup
This cold apple cider punch is refreshing and soothing thanks to CBD-infused simple syrup.
Time: 1 hour 20 minutes
Yields: 12 eight-ounce servings
Dosage: 10 mg CBD per serving
What you need:
Two quarts apple cider (divided)
¾ cup sugar
Four tablespoons honey-ginger CBD syrup
One tsp cinnamon
One tsp ground allspice
One can orange juice concentrate
One quart ginger ale (chilled)
Skull ice molds (optional)
What to do:
Combine one cup of cider, sugar, syrup, cinnamon, and allspice in a large pot over medium heat. Stir continuously, until sugar has dissolved.
Remove from heat. Add orange juice and remaining apple cider. Refrigerate until cold.
Before serving, add in ginger ale. Stir thoroughly. Serve chilled over ice.
Spicy Roasted Pumpkin Seeds With Cannabis-Infused Olive Oil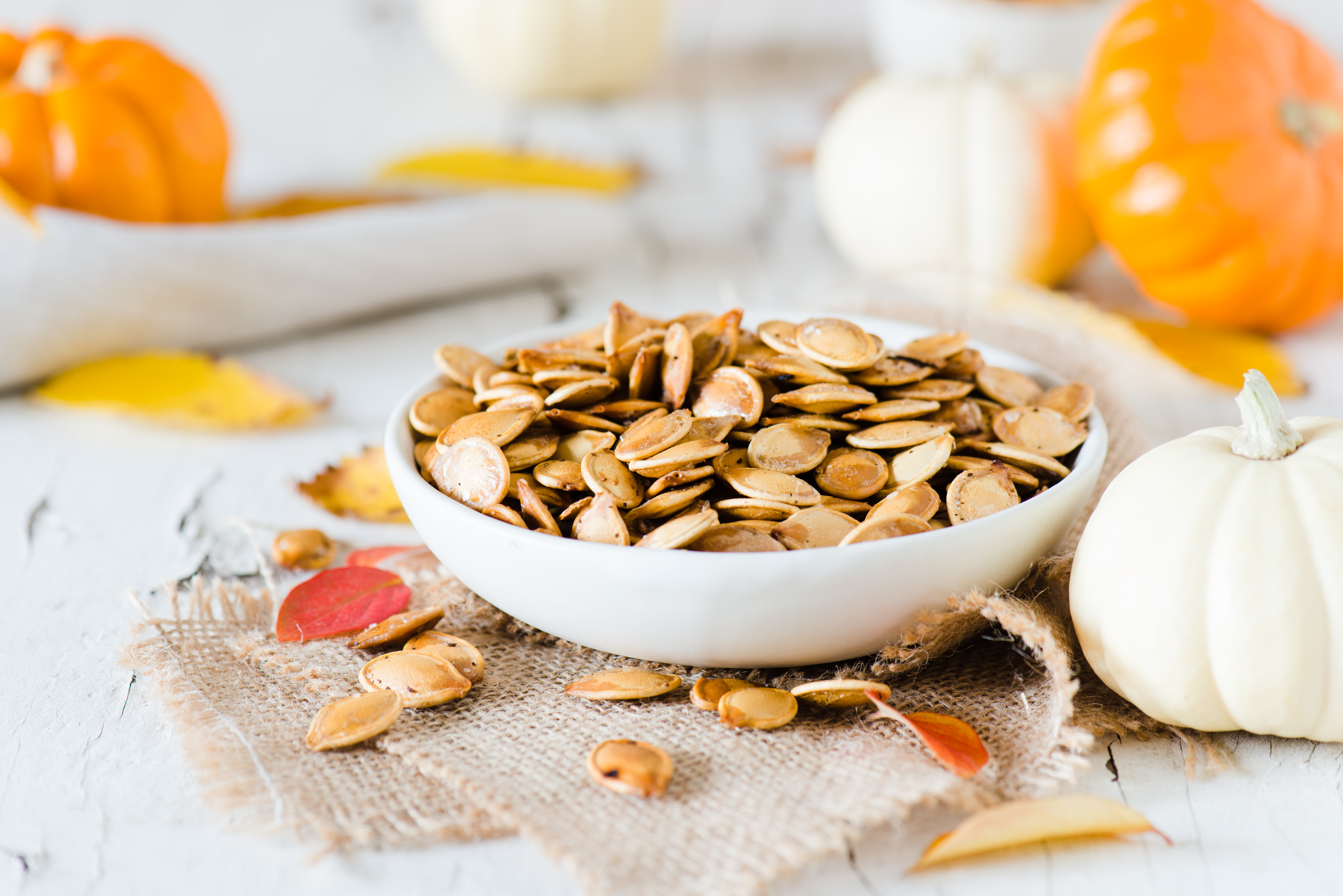 Roasted pumpkin seeds are eternal classics. Add a bit of spice and infused the oil for a smooth, low-dose snack.
Time: 55 min
Yields: 8 quarter-cup servings
Dosage: 1.25 mg THC per serving
NB: Dosages may vary depending on different infused cooking oils. 
What you need:
Two cups pumpkin seeds
Two tbsp cannabis-infused cooking oil
One teaspoon Worcestershire sauce
⅛ teaspoon hot sauce
½ teaspoon salt
¼ teaspoon pepper
½ teaspoon paprika
¼ teaspoon ground cumin
¼ teaspoon cayenne pepper
What to do:
Toss pumpkin seeds with oil, Worcestershire sauce, and hot sauce in a small bowl.
Mix salt, pepper, paprika, cumin, and cayenne; sprinkle over seeds, and toss to coat.
Lightly grease a foil-lined pan. Evenly spread pumpkin seeds in a pan. Bake uncovered at 250° for 45–50 minutes. Stir every 15 min.
Cool. You are good to go!
Caramel Coconut Apples With Cannabis-Infused Chocolate
With infused chocolate, these caramel apple skewers are an ideal take on a classic treat.
Time: 30 min
Yields: 36 dipped apple slices
Dosage: 5 mg THC per slice
NB: Dosages may vary depending on the potency of the infused chocolate used. 
What you need:
One bag caramels
One can evaporated milk
Six green apples
Two cups chocolate chips, melted
One bag coconut flakes
One bar cannabis-infused chocolate
Medium-length wooden skewers
Parchment paper
Colored icing in different colors (optional)
What to do:
Cover one cookie sheet with parchment paper. Spread coconut flakes on a large plate.
Mix caramels and milk in a large saucepan. Cook over medium (or low) heat until caramels is melted. Stir often. Remove from heat and leave for five minutes.
Skewer apples whole and dip in caramel. Roll apples in coconut flakes and place on a cookie sheet.
Once apples are covered, put in a fridge until caramel is firm.
Remove from refrigerator, core apples, slice each one into six equal pieces.
Mix chocolate chips and chocolate bar in a large bowl. Heat for thirty seconds at a time. Stop to stir until chocolate is melted.
Skewer each apple slice and dip in melted chocolate. Put on a fresh sheet of parchment paper and let it cool.
Add lines of icing over apple skewers (optional).
"Bloody" Raspberry Coffin Brownies With Cannabutter
These infused coffin-shaped brownies will make your Halloween celebration even creepier.
Time: 40-50 min
Yields: 18 brownies
Dosage: 40 mg per brownie
NB: The actual amounts of cannabutter you use should be modified based on the strength of it or oil potency you want. Always dose carefully and listen to your body. Never drive under the influence of cannabis.

What you need:  
1 ⅛ cups cannabutter
½ cup 70% dark chocolate, coarsely chopped
Two cups caster or baker's sugar
Four eggs
One tsp vanilla
One cup plain flour
¼ cup Dutch cocoa
½ teaspoon salt
1 ½ cup raspberries (fresh or frozen)
Three coffin shell brownie pans
Colored icing, gummy worms, cookie crumbles, or assorted
What to do: 
Preheat oven to 350˚F. Grease brownie pans.
Heat the cannabutter in a saucepan over low heat. Add the chocolate and stir with a wooden spoon until the butter and chocolate are completely melted and mixed.
Remove from heat and stir in sugar. Add eggs, beating until mixture is shiny. Stir in vanilla.
Sift in the dry ingredients. Mix thoroughly.
Pour into prepared tin. Top with raspberries.
Bake for 15-20 min and remove before brownies become fully set.
Remove from oven and let cool completely. Refrigerate. Once cold, remove from tin and cut into rectangles.
Add gummy worms and cookie crumbles to create a decorative brownie graveyard.
Happy Halloween!
(Sweedsy in no way encourages illegal activity and would like to remind its readers that marijuana usage continues to be an offense under Federal Law, regardless of state marijuana laws. To learn more, click here.)